New Years Eve Dinner in the Mizner Ballroom
The Mizner Ballroom
Beautifully crafted dinner pairings complementing bright bubbly champagne brings the experience to life. Enjoy live music and dancing between courses. The party continues, as you are welcomed to any of the celebrations around the The Cloister.
Jacket and tie required, Black tie recommended. Must be 21 years or older to participate.
Price:
$325/person – A service charge of 25% will apply.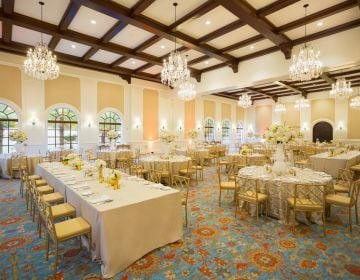 Mizner Ballroom
Adjacent to the private Mizner Courtyard, with large arched windows, wooden ceiling, chandeliers, and a combined room capacity of up to 300 guests. 5,053 sq ft