Sea Island Shrimp Festival
Lower Black Banks Terrace and Cloister Dock
Join the Sea Island Captains for a Southern Shrimp Boil with the freshest catch in Georgia! This Summer, meet local Shrimper Captain Johnny Ray Bennett, sip on the local Brews of Southern Georgia, and enjoy live music along with the taste of fresh caught Georgia Shrimp. Captain Bennett has been shrimping in our local waters for over 50 years and will be onsite to share his knowledge. While you enjoy our catch, take a tour of the Dora F. to see what Shrimping in Georgia is all about. Coolers will be provided for you to purchase freshly caught shrimp by the pound right off the boat from Frank Owens of City Market Seafood. We will see you on the Lower Black Banks Terrace and Cloister Dock!
Price:
$70/adult, $35/child – A service charge of 25% will apply.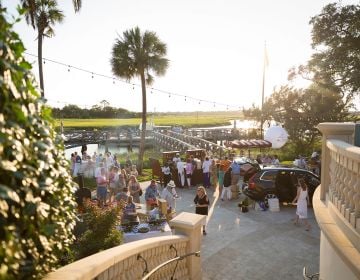 Lower Black Banks Terrace
Adjacent to The Cloister Dock, with views of the Black Banks River.