Rainbow Island Supper
A Sea Island tradition created more than a half century ago.
Rainbow Island Suppers trace back to the 1950s when The Cloister began hosting an outdoor feast on Friday nights. Just as guests from years past sat down to plates of roasted oysters, shrimp, collard greens, and fried chicken, you can enjoy these classics today. The Jeep Train will make loops between the Beach Club and Rainbow Island from 4:45-8:30 p.m. Open seating and cash bar.
Price:
$95/adult, $40/child (Ages 4-12) – A service charge of 25% will apply.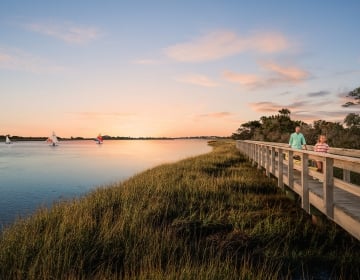 Rainbow Island
Explore Sea Island's waterways. Kayak to a beach for a picnic lunch. Learn to sail. Take your yoga practice from the mat to the paddleboard. Or dine on classics paired with a side of salt air and lapping waves. It's also the starting point for several nature activities.