Sea Island Tarpon Classic
Sea Island Yacht Club
Cast a line in the inaugural Sea Island Tarpon Classic, where you'll have access to some of the best fishing on the East Coast. Prizes will be given to the boat which catches the most tarpon.
Cap it off with an awards banquet on The Cloister Dock Saturday evening, featuring live music and a low country boil.
This event is at capacity.
Price:
$480/entry for personal boats. Entry fee includes the tournament, four tickets to the awards banquet and low country boil at The Cloister Dock, four hats, and four t-shirts.
Additional tickets for the Low Country Boil may be purchased for $50/person.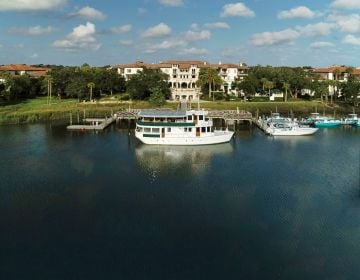 The Cloister Dock
From launching pad of fishing adventures to cruising our golden marshes: an unforgettable pre-dinner or private cruise aboard our 71-foot yacht, the Sea Island Explorer, or fishing aboard the 39-foot Contender. Exit the Colonial Lounge toward the river and straight ahead to the dock.