"The Million Meals Tour" Concert featuring Kelley James
Sunday, June 26 at Rainbow Island
Cash bar and food truck open at 6 p.m.
Show begins at 7 p.m.
Join us for a fun evening at Rainbow Island enjoying Jefecitas' food truck, drinks, and the humor and music of performer Kelley James. During the show, you can expect 90 minutes of covers, original and relevant freestyle, that will give you a one-of-a-kind music experience. Kelley's fans include Adam Sandler, Larry David, Wayne Gretzky, and Rickie Fowler.
The Kelley James' "The Million Meals Tour" is helping raise awareness in the fight against food insecurity. Kelley's goal this year is to donate at least 1,500,000 meals for Feeding America.
Event Details
Seating is first-come, first-serve. Personal chairs are welcome.
Parking is available at the Beach Club.
Jeep Train will make loops from the Beach Club to Rainbow Island.
No coolers or outside beverages will be permitted.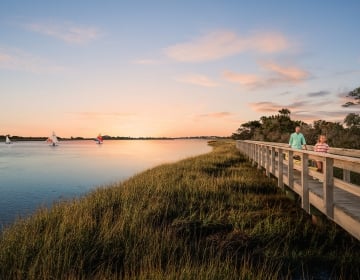 Rainbow Island
What can't you do at Rainbow Island? The home of one of Sea Island's most beloved outdoor dinner traditions is also your home base for exploring Sea Island's waterways. Kayak to a beach for a picnic lunch, learn to sail, or take your yoga practice from the mat to the paddleboard. Sign up for a hawk walk, falconry meet and greet, marsh and beach horseback ride, even host a casual private dinner or event. This waterfront location is a short ride or walk from The Cloister, just over the bridge on your left, and is the starting point of many cherished Sea Island memories.