There are two confidants a gentleman can trust with his troubles: his bartender and his barber. With a wink and a smile turning up the corners of his waxed mustache, this sentiment is conveyed by Andrew Martin, owner of Martin Barber Co. Dressed in a meticulously buttoned vest and tie, his shears move a quick clip over the tow-headed crown of a caped young gentleman seated before him in an antique-style barber chair. The resurgence of traditional barbershops has reached every corner of America. To walk into the upscale Martin Barber Co., in Laramie, Wyoming, is to take a step back in time. A vintage barber pole greets clients. Behind a glass garage door inside the shop sits a 1937 Chevy. Originally a butcher shop and meat locker from 1955, exposed copper pipes and hewn countertops add to the ambiance. Mingling among the nostalgia is the buzz of clippers and the chatter of conversation. "You have a head of hair just like your dad," says Martin as another young man takes a seat.
CONVERSATION AND CAMARADERIE
The oldest of traditional barbershops is commonly understood to be Truefitt & Hill of London, recognized in 2014 by the Guinness Book of World Records. Founded in 1805 by William Francis Truefitt, hairdresser to the Royal Court, and mentioned in literary works by the likes of Charles Dickens, William M. Thackeray and Oscar Wilde; Truefitt & Hill is still in operation today.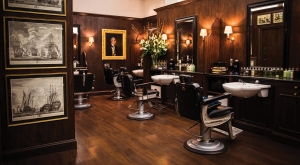 While many of today's barbershops opt for nostalgia in their décor — antique and vintage barber poles and an array of barber memorabilia behind glass cases — some bring forth a combination of old and new.
John C. Christopher of Johnny's Barber-shop Downunder, located in the heart of Hershey, Pennsylvania, notes: "Our shop is an old-style barbershop with a new style feel. It is a combination of nostalgic and state of the art."
Christopher, an executive member of the National Association of Barber Boards of America (NABBA), says he's ready to change with the times. While his shop offers the current popular array of straight razor shaves, neck shaves and their specialty: beard and mustache trims, Christopher realizes hot-ticket trends are just that. "Everything in this business is cyclical, so who knows, in three years, the flattops might be popular again," he comments.
Rather than acting as surgeons and dentists, barbers of today master the perfect fade or the pamper of a hot-towel shave. Yet above all, it's the recurring theme of trust and comradeship among barbers and their customers that holds prevalence.
Barbershop conversations run the gamut — from sports to family and current affairs. It's not uncommon to have clients stop by just to ask questions of their barber: I need a plumber or a mechanic — who do you recommend? Barbers tend to know folks far and wide.
"If I were on the other side (of the chair), the conversations and camaraderie as well as the skills, would make me want to return," Christopher confirms. Renee Patton, of The Barbershop of Boiling Springs, Inman, South Carolina, likens the bond, trust and stories shared over time to that of a therapist: "What gets said in the shop stays in the shop. We listen."
Generations of barbers have held this tradition, and some shops are decades in existence, still run by members of the same family, serving clients whose grandfathers and even great-grandfathers frequented the same shop.
George Robinson of Professional Barber Shop Inc. in Orangeburg, South Carolina, and immediate past-president of the NAABA, is one such multi-generational barber. "We have been continuously serving our area for over 65 years, and we have clients whose grandparents were my father's clients," he explains.
A SMOOTH SHAVE
Not only the conversation, but also the pampering of a well-done barbershop experience keeps clients returning. It may start with a search for the perfect cut and then expand from there.
Larry Shaw, a professional jazz drummer located in Philadelphia, Pennsylvania, sports a full-head of thick jet-black hair. As a performing musician, working under stage spotlights as well as video and photoshoots, Shaw's appearance is of paramount importance to him.
"Trust is definitely in the forefront of my barbershop experience," he says. Though he has an established relationship with his barber for regular haircuts, it was a gift from his girlfriend of a hot-towel shave that helped him explore the rest of his barber's menu.
The origination of the safety-razor, attributed to Jean-Jacques Perret in 1762, led to ease of safer home shaves. Well before that, the Romans were known to favor a smooth-faced look. Throughout the middle-ages and renaissance, facial hair, or lack thereof, followed the vogue of the times as illustrated by artworks depicting the royals and other well-to-do subjects. At one point, Peter the Great even imposed a tax on beards. By the 19th century, sculpted facial hair was once again de rigueur, and many of the gentry sported mutton-chops, handlebar mustaches and the like.
Today's hot-towel shave begins with a hot towel covering the face and neck, allowing the heat and moisture to swell and soften the beard, opening the pores and relaxing the skin. Next, the barber prepares a soap lather using a traditional shaving brush, which lifts and softens the facial hair, preparing the follicles for a close, irritation-free shave. A massage often adds to the experience.
While laying back in the chair, the client is shaved using a traditional straight razor, allowing for specialty beard angles or a smooth-faced shave. The shave may be followed by another hot towel, then a cold one. After-shave balm then moisturizes the skin further, leaving the client pampered and refreshed.
Some shops will offer a libation to complete the experience, from an ice-cold pilsner to a pour of bourbon. "It was the ultimate spa-like experience," Shaw recalls. "After that first time getting a shave, I was hooked." Antinette Maestas of Flamingo East Barber Shop, Las Vegas, Nevada, notes: "We have clients that come every week for shaves. I feel like it's somewhere to come and relax and just enjoy the pampering."
Whether immersed in the nostalgia of a barbershop decked in vintage décor or enjoying the amenities of a more modern-themed shop, the overall sentiment stays the same. The time-honored experience of the gentleman's barbershop remains rooted in long-standing tradition.
THE SEA ISLAND BARBERSHOP
Speaking to Sea Island Master Barber Eric Main, his zest for what he does comes through with enthusiastic joie de vivre. "I had never picked up a set of clippers in my life, but once I went to barber school, I threw myself into it," he comments. "I love what I do."
Integrity and the "trust factor" sit at the forefront for Main, as The Lodge barbershop has a following based on that trust. He takes that responsibility seriously: "It's the barber's creed."
Inspired by a recently-uncovered 1936 photograph, the barbershop in the Men's Locker Room at The Lodge at Sea Island embraces the barbershop tradition with services including men's cuts, shears-only cuts, hot towel shaves, line ups, beard trims, men's facials, men's full tune-ups and full treatments.
Visiting the barbershop at The Lodge, guests can enjoy craft cocktails and hand- rolled cigars while sharing stories with friends, just as Sea Island visitors did in the 1930s.
The Lodge at Sea Island General Manager Blair Webb notes: "We are delighted to offer grooming services in a comfortable and inviting space that evokes a sense of nostalgia. We hope guests feel transported to a simpler time as they gravitate toward the chair."