The average person will probably tell you that they have never tried mezcal, but that's not necessarily true — especially if that person has ever consumed a margarita. While mezcal may be the fastest-growing spirit in the United States, most consumers do not know they are buying or drinking it. Just like bourbon is whiskey, tequila is mezcal. And while not all whiskey is bourbon, the same can be said for tequila and mezcal. To be named "tequila," the spirit must be produced in a specific region in Mexico, mainly within the state of Jalisco, and only from one very particular species of agave, the blue weber. When blue weber agave is distilled in certain places under certain rules it becomes tequila. All other byproducts, made from dozens of different types of agaves across Mexico, are called mezcal.
To make matters even trickier, mezcal has a confounding array of labels and styles, which vary based on state regulations. If the variety and market for tequila is akin to bourbon, mezcal is more comparable to wine, heavily driven by the varietal used and the terroir, or where it was grown. As a result, mezcal is one of the least understood spirits, but following on the success ultra-premium tequilas have enjoyed, it is currently trending in cocktails across the United States.
UNEARTHING MEZCAL
There are three distinct styles of mezcal or tequila production: ancestral, artisanal and industrial, usually labeled as such. Ancestral is the oldest form, with agave milled by hand or donkey power, and the spirit made in clay stills. Artisanal is the modernized version of that, with small-scale production using a mechanized tahona (stone mill) to grind the agave, and copper stills. And lastly, industrial production involves cooking agave in autoclaves, extracting the liquid with a diffuser, and distilling it in a stainless-steel column.
Much of the highest quality mezcal is still produced through small, local businesses. Bar owner Justin Lavenue, whose craft cocktail bar the Roosevelt Room in Austin, Texas, stocks more than 30 bottles of mezcal, says, "It's wild: A mom-and-pop or son and daughter business often make a couple of thousand bottles, and 100% of that brand shipped around the world is literally made by two people." If you do want to pick up a bottle at retail, the best-established specialty importer is Del Maguey, which sources these ultra-small production single village mezcals and sells them under its umbrella label, making it a reliable and curated way to shop for quality.
Even the same types of agave grow very differently in different regions, so the potential range of flavors is really vast. And while mezcal has a reputation for being smoky, the level of smokiness varies. Some are fruit-forward, others are the opposite. There's actually little you can generalize about mezcal, but one constant is that the espadin agave variety, the father of tequila's blue weber, is prolific, and found in most mezcals. The majority are blends, but usually single variety bottles are labeled accordingly, and 100% espadin mezcals, which are widely available, is the closest to tequila, and the most approachable for first-timers. Another rule of thumb, while agave for tequila is usually steamed in ovens before distillation, for other mezcals it is roasted in underground pits, like a luau, and that's why it tends to have a smokier flavor.
HAVE A SIP
Mixologists will tell you that the best way to learn about a new product or spirit is to visit a reputable bar or restaurant with a good selection and knowledgeable staff. The same principle applies for mezcal.
Like fine tequilas, good mezcal can be enjoyed neat, but in this country, it is more typically used in cocktails, which is how most experts recommend exploring it, especially for newcomers. "Many of the people getting hip to mezcal are being introduced to it through cocktails," comments Bryce David, owner of Ensenada, a New York restaurant that specializes in authentic regional Mexican cuisine with an extensive mezcal program, including multi-course food and mezcal pairings and regional mezcal tasting flights. He enjoys the spirit "neat, neat, neat," but notes that, "swapping out tequila for mezcal on any of the Mexican classics like a margarita or paloma will always add another dimension to an already great cocktail."
In the town of Tequila, the epicenter of the eponymous spirit, is the home to Mexico's largest producer, Jose Cuervo. In Tequila, the beloved local signature is the Cantarito, made with fresh orange, grapefruit and lime juices with a healthy pour of tequila topped with grapefruit soda. This is a very refreshing hot weather drink that is also elevated in complexity by using mezcal instead.
But mezcal is not just reserved for Mexican drinks anymore. Bartenders find mezcal surprisingly versatile and can use it in place of everything from gin to Scotch. "One of the great things about mezcal is that you can substitute it for many different spirits in a lot of classic cocktails, and it works great," Lavenue notes. "The result is neo-classic mezcal cocktails, and they are here to stay."
He especially likes it in lieu of peaty or smoky Scotches. "Peaty scotches are in a lot of old cocktails, but there have been some notable new ones, and the Penicillin is probably the most popular 'new classic.' It uses both blended Scotch and Islay single malt plus lemon. The agave version is the Medicina Latina, with tequila instead of blended Scotch, mezcal instead of Islay, and lime instead of lemon. It's basically a Mexicanized Penicillin."
If you want to mi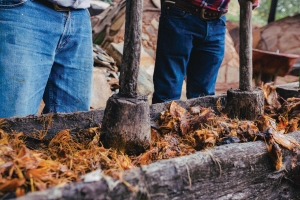 x drinks at home, according to Lavenue, mezcal works well in any "equal parts" cocktail recipe, like a classic Negroni, which is one part gin, one part Campari, one part vermouth. Substitute mezcal for the gin. A bartender at New York's Death & Co. created the Oaxaca Old Fashioned, using tequila and mezcal for the whiskey and agave syrup for the sugar, and it has become a craft cocktail bar institution worldwide.
Simple substitution in straightforward cocktails is the easiest way to experiment with mezcal on your own. A well-versed bartender can help you try more complex cocktails and then move on to side-by-side tastings.
SEA ISLAND MEZCAL
At Sea Island, popular cocktail options include mezcal palomas, mezcal margaritas and also mezcal mules. According to Resort Lead Bartender Nic Wallace, "Mezcal Old Fashioned cocktails are really popular right now," in lieu of the standard bourbon. Wallace is also seeing a rise in requests for half-and-half margaritas, with mezcal subbed for half the tequila, which gives it a nice complexity.
The Clear Skies Margarita was the first mezcal cocktail to make it onto the permanent Classics menu at Oak Room, located in The Lodge at Sea Island, which is known for its extensive single malt Scotch library. The drink uses half tequila and half Siete Misterios mezcal, plus grapefruit, lime and basil and then is clarified with a milk wash. At River Bar, the Hall of Fame cocktail list includes Bonnie's Surrender, with a mix of tequila, mezcal, local Georgia honey, lemon, lavender and angostura bitters. Sea Island offers select wine and spirit classes at the resort throughout the year, where mezcal turns up frequently in its intermediate and advanced courses.