A feast for more than your taste buds, a well-balanced charcuterie board effectively combines food with art to create one aesthetically pleasing display. In recent years, charcuterie boards went well beyond the typical cheese and meat offering to explore new territory with breakfast foods, build-your-own tacos, 'jar'cuterie and more. While charcuterie still makes for a pretty and popular entertaining option, it started more as a necessity than a luxury.
IN THE BEGINNING
The concept of using salt to cure and preserve meat, by extracting the moisture, has ancient roots. Well before the invention of refrigeration, cool basements were used to store food. However, it was the French who pioneered "modern" charcuterie in the 15th century, finding that preservation could help to ensure that no food was wasted. While European charcuterie still remains simple, boards in the United States have become increasingly unique.
A PERFECT COMBINATION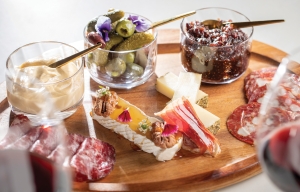 Traditional boards contain an assortment of meats, cheeses and artisan bread often accompanied by olives, fruit and nuts.
"Over time, chefs have had the opportunity to put their own touch on charcuterie and play with proteins," says Armando Gomez, executive sous chef for The Cloister at Sea Island. Gomez oversees Tavola, River Bar & Lounge plus inroom dining at the resort. "For a balanced board, we use the 'rule of three,'" Gomez states. "Three cheeses, three meats, three breads and three treats."
With no set menu, he aims for variation in both the texture and flavor of the meats. Some of his most popular selections are dry-aged salami, bresaola, pancetta and duck prosciutto plus fresh options like "rillettes" (seasoned meat slow-cooked in fat) or "pâté en croute" (pâté in a pastry crust), often found at River Bar.
For cheese, Gomez offers this tip to at-home entertainers: "Start your board with a soft cheese, a hard or semi-firm cheese and a 'unique' cheese. At Sea Island, we partner with local producers like Sweet Grass Dairy for singular offerings like Thomasville Tomme and Lil' Moo."
Balance is key. In addition to seasonal fruit, Sea Island creates their own jams, competes and pickled vegetables. These additions are important because they add a needed acidity to the platter, "that helps cut through the rich cured meats," Gomez instructs.
The sky is the limit when it comes to charcuterie boards, and nothing proved that more than the new creative versions that have taken the internet by storm. You can now find a board for any occasion.
ENTERTAINING BOARDS
Not only are these eye-catching arrangements showstoppers for at-home entertainers — they are also driving engagement online. From fondue to french fries, social media users are devouring creative takes on the 15th-century classic.
Here are a few of our favorites and how to achieve them yourself:
Don't Mind If I Fondue: Build your board with small bowls of melted cheese — fontina, Gruyère or gouda are all good options. Decorate the remaining space with a range of fruits and veggies, breads and meats. This is a great option for entertainers who want to get creative without too many limitations, because melted cheese pairs almost perfectly with anything. Impress your cheese-loving friends and family by garnishing your board with mini grilled cheese sandwiches.
Pickled Platters: As home-pickling gained popularity in kitchens across the country, it extended far past cucumbers. Build a pickled platter with pickled tomatoes, carrots, beets, string beans, jalapeños or okra. To balance your board, choose fattier meats and creamy, mild cheeses. Pickled foods wake up and cleanse the palate, so this is a great choice that can even work between courses.
Butter Board: Butter boards were big in 2022, although their origin seemingly traces back to Chef Joshua McFadden's 2017 cookbook, "Six Seasons." Butter boards are an easy execution for any entertainer. Start with a base of softened butter and then add your choice of various toppings such as garlic, herbs, lemon, chives, goat cheese, salt and honey. Serve with an assortment of breads and crackers for dipping.
Oh My, French Fry: For friends who are constantly engaged in the "who has the best fries" discussion, look no further. French fry boards are built by layering different types of fries (and tots, if you're adventurous) with a variety of dipping sauces. Let friends choose between waffle, crinkle-cut and the classic golden arch fries. For sauces, start with sriracha mayo, guacamole-ranch dip and a homemade ketchup. Garnish with a flurry of cilantro and lime wedges, for brightness.