The coastal Southeast is known for many things, including its welcoming demeanor, Spanish moss and distinctive and beautiful architecture. Spanning many styles and types, the homes and buildings of the region are designed to maximize views of the marsh and beach while providing a solid foundation for generations to enjoy. Over time, select materials have made their way into the culture of Southern architecture as a way to highlight the history of the region and beauty of the landscape.
A REGION OF EVOLVING STYLES
Originally, coastal architecture was mostly fed by the necessity for strong materials using what was around, such as wood, sand and shells, says Gregory Jacobs, co-founder and managing partner at Landmark Preservation LLC. "People needed to build quickly and with limited resources," he explains.
But once the train system was up and running, design influences began to come from all over. "Trains allowed for styles to proliferate more freely," notes Clay Rokicki, principal, director of design enrichment at Historical Concepts, an Atlanta-based architectural firm. This is how the United States saw such a spread of what Rokicki says is its first national style: Greek Revival.
Styles evolved thanks to these transportation technologies, resulting in the widespread adoption of once foreign styles, such as the Mediterranean influence. "It filtered through Florida, through the influence of Addison Mizner in the early 20th century," Rokicki comments. "And now it just feels right in places like Florida and California." While overall architectural styles have changed over time with outside influence, some exterior and interior elements have stayed truly Southern coastal, enhancing the region's signature charm.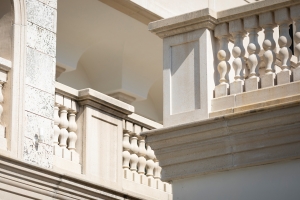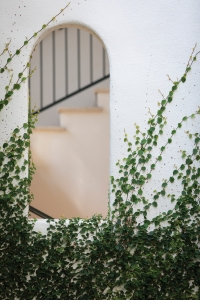 SPANISH INFLUENCES AT THE CLOISTER
The Cloister at Sea Island — and many homes in the area — are heavily inspired by the Spanish Mediterranean style. This choice was new for the area at the time, comments Merry Tipton, the former director of marketing communications at Sea Island.
Addison Mizner was a popular Florida coastal architect in the early part of the 20th century, responsible for iconic and exclusive properties such as The Boca Raton and The Everglades Club. He was also the architect of The Cloister, and his style went on to inspire many more structures along the Georgia coast.
"Mizner's architectural approach was simple, with a few classic elements: off-white stucco walls, red tile roofs, lots of arches," says Tipton, talking about the original building. "When blended with gently gurgling fountains, lush green grass and loggias, it was an amazing thing of beauty. There's a gentleness to the design today, which lends itself to calm.
A signature of Mizner's style is a red tile roof, customary in Spanish Mediterranean style. Traditionally, they were used in these climates as a way to reflect sunlight and heat and create ventilation through their overlapping tiles. They also create a nice visual contrast to the off-white stucco, making for instantly recognizable buildings like The Cloister today.
ORGANIC TEXTURES THAT SING
While the Southern Coast offers a bounty of organic materials from which to draw visual inspiration and structural soundness, Jeffrey Dungan, a Birmingham, Alabama-based architect, loves working with pecky cypress — so much so that he even created his office foyer out of it. Pecky cypress, also known as swamp cypress and bald cypress, is symbolic of Southeastern coastal style.
It's naturally resistant to decay, taking on unique grain patterns thanks to the conditions in which it grows, primarily in marsh and swamp. Its "pecks," or divots, are thanks to a naturally-occurring fungus that disappears after the trees are harvested, often from waterbeds. Architects and designers love using it for paneling, trim work, flooring, doors and accents because of its rustic elegance. "It has what I call a wonderful nonchalance," says Dungan.
Rokicki adds, "It can feel old, rustic and traditional, but in different contexts, it can feel super modern, clean and be a great counterpoint."
Bradley Odom, an Atlanta-based designer and owner of Dixon Rye, is currently working on a home where the entire ceiling is made of pecky cypress that had been shellacked. He's stripping it back to its original beauty and rawest state, and using it to inform the rest of the design. "Pecky cypress is storied in itself," he notes. "It's a go-to material if the architect hadn't already placed it in a home because it has so much character. I love to use it for something unexpected like a daybed paired with a sumptuous covered cushion."
For a lighter, more Mediterranean element, designers and architects sometimes turn to cut coral, which is very similar in look and feel to limestone; however, it's light, textural, and extremely porous. It often allows organic material to accumulate in the pores. Rokicki loves the organic nature of it. "Every piece is different, and you can see imprints of plants, shells and fossils in it. It's suited for a Mediterranean or even Caribbean feel," he explains.
AN INNOVATIVE MATERIAL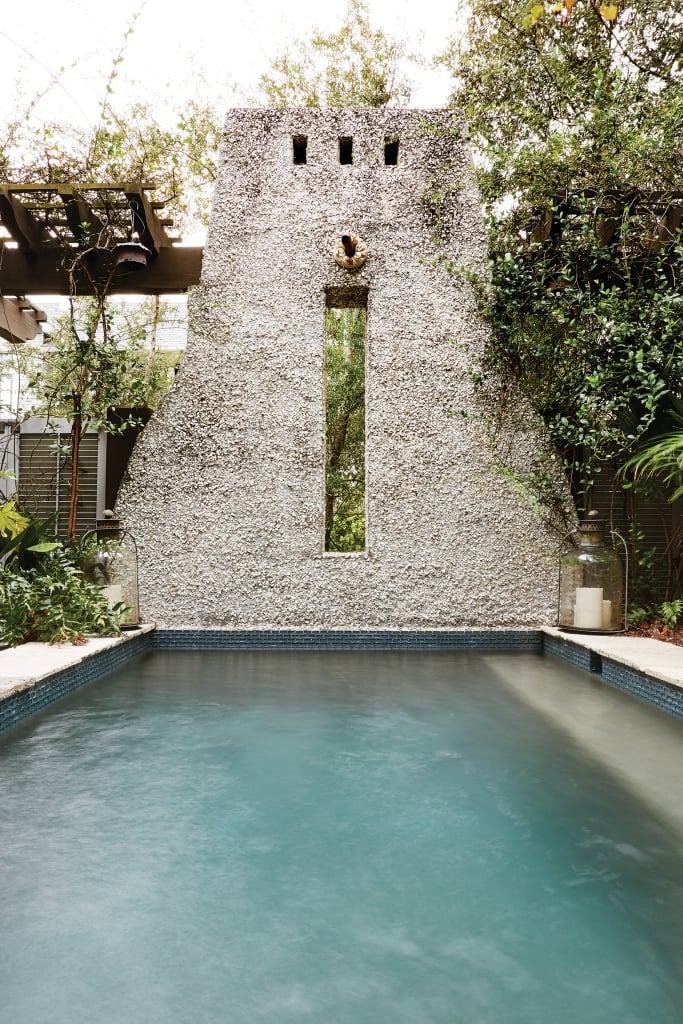 Perhaps the material most commonly associated with the region is tabby. Manmade tabby comprises a mixture of lime, made from shell middens found along the coast left by indigenous peoples, sand, water, oyster shells and ash.
The practice of making tabby dates back centuries. Traditional tabby was used to make walls, bricks and even tabby floors in certain buildings.
Tabby, a labor-intensive material, underwent a revival in the late 1800s. By adding white cement, a readily available and more durable ingredient, it became easier to use. The 1900s brought about pseudo-tabby, which is commonly used today, made from concrete and crushed oyster shells.
The end result is a wonderfully textural and sometimes iridescent finish that's as strong as it is beautiful. "Tabby is ingenious," says Jacobs. "It started out as something out of necessity to build quickly for fortification purposes and then later evolved into all sorts of domestic, agricultural and commercial uses." In interiors, Odom has seen it used in items as small as concrete planters to larger elements like fireplaces.
AN EXERCISE IN RESTRAINT
These elements are romanticized for good reason, but they should be used judiciously. "These are all very special materials, and there is such a thing as too much of a good thing," advises Dungan. "They should be used with restraint and in the right context."
"Think of them like seasoning for food — a little can go a long way," Rokicki agrees. Practicality needs to be weighed alongside beauty. While authentic materials are always top of mind, Rokicki says he looks towards the vernacular architecture for lessons in how to make a building stand the test of time, so that his clients can enjoy their homes for generations to come.
WABI SABI: A HALLMARK OF NEW SOUTHERN DESIGN
If you've ever admired a Southerner's design approach of having things perfectly askew, you might not have known there was a word for it: wabi sabi. In Japanese culture, wabi sabi means being at peace with imperfection. However you describe it, it's definitely the current vibe, notes architect Jeffrey Dungan: "I like things that aren't too perfect. Wabi sabi is the perfectly imperfect.
Along those lines, Dungan's been using a lot of antique-grade or character-grade woods in projects, with a particular love of reclaimed oak. "We like it when it has a few more cracks, a little more character. Those imperfections exist in the natural world and bear the mark of time," he explains. "They're timeless."
Clay Rokicki, director of design enrichment at Atlanta's Historical Concepts has seen a rise in interior plaster finishes, which also plays into wabi sabi. "It enriches the space so much more than painting drywall does. You can see that a human hand has influenced it." When combined with how it plays with light, it's an interesting use of texture. Plus, more solid substrates allow for hanging pictures easily in the new application of the old texture.