The bar cart is one of the prettiest, and most practical, tools for home entertaining. A stylish piece of home décor or a sentimental nod to the past, a bar cart immediately evokes a celebratory feeling. Of course, it is meant to be used, so adding this piece to your home requires a bit of advance planning and consideration. Gina Ciancio, interior designer, blogger and owner of Style Curator, explains that while a bar cart is a great way to set the scene for entertaining, it can also be a beautiful focal point in a room, styled with other decor, such as a stack of books and candle. She suggests highlighting the cart with a wall light above or a table lamp on the cart itself and positioning the cart under a piece of art to catch a guest's eye and anchor it in the space. The cart can also be used as a side table in a living area, a dessert station in a dining room or an elegant way to display dinnerware in a kitchen.
"Start by thinking where you'll keep the bar cart, as this will dictate size and whether or not it will be a multifunctional piece that you may use for other things in that zone of your home as well," considers Ciancio. "Also, will it be a bar cart you have out on display all the time or only when the party gets started? When you understand where and how you'll use the bar cart, you can get a sense of your requirements."
THE PERFECT HOST
Megan Corrigan, lead bartender at River Bar, shares her ideas for building out the practical elements of your bar cart. Though there are countless possibilities, these items will ensure that you can create the classics on your own.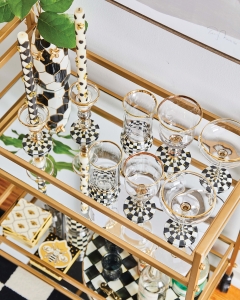 GLASSWARE
COUPE – can double as a martini glass and is the perfect vessel for Champagne-based cocktails.
COLLINS (or high ball) – primarily used for long-drinks and highballs, such as Tom Collins, vodka soda and any cocktail with a nonalcoholic lengthener such as soda or ginger ale.
ROCKS (or lowball) – used for spirit-forward cocktails that might be served on the rocks, such as a Manhattan. This glass is also a perfect vessel for drinking spirits either neat (no ice) or over a large 2-inch ice cube.
CHAMPAGNE FLUTE – used for cocktails like the French 75, a cocktail featuring gin, lemon, sugar and sparkling wine. This glass is also the standard for a Champagne cocktail with a Cognac base.
TOOLS
MUST-HAVE TOOLS – Crafthouse by Fortessa collection, which was designed by a world champion bartender and covers all of your home bar needs in one — from your shaker and mixing glass to bar spoons, knife and peeler. "Even things like the ice bucket, jigger and ice scoop are beautifully made. The ice scoop is the only one I've ever seen that has slots and holes in the bottom of it to drain the liquid off of the ice as you're pouring so you don't get watered-down cocktails," notes Corrigan.
CLASSIC COCKTAIL BOOK – "I've been doing this for 20 years now, and I don't know every cocktail. Nobody does. Having an at-home reference right in front of you on the bar cart is a great way to make sure that you can easily reference recipes when you need to." A few suggestions include:
• "The Bar Book: Elements of Cocktail Technique" by Jeffrey Morgenthaler
• "Cocktail Codex" by Alex Day, Nick Fauchald and David Kaplan
• "Regarding Cocktails" by Sasha Petraske and Georgette Moger-Petraske
• "The Craft of the Cocktail" by Dale DeGroff
In terms of styling, that's where the fun really begins. Functional items may include beautiful glassware, cocktail essentials like a shaker and measuring tool, ice bucket, liquor and mixers and a bowl of lemons or limes for a pop of color. "There's no need to restrict your bar cart styling to just practical items though. Have some fun by including quirky decor, or simply make it beautiful with sculptural pieces, books, trays, a candle or vase of flowers. You can personalize your bar cart by finding items that reflect your style, or that you've purchased on travels," Ciancio notes. By its nature, a bar cart is a party waiting to happen. Adding a theme can help set the tone. "I recently styled a Hamptons-inspired bar cart for an outdoor area so I looked for accessories that fit the theme, such as a cocktail set with wicker accents, large faux shell fruit bowl and agate coasters," she says. "The options to style your bar cart are endless."
Best known for its "Courtly Checks" black and- white pattern, MacKenzie-Childs offers an imaginative, whimsical approach to bar cart decor.