Jonathan and Ally Haney will never forget the voyage they and their wedding party took on the 71-foot multilevel Sea Island Explorer. The cruise, held after their wedding ceremony in The Cloister Garden, offered views of a gorgeous sunset and dolphins swimming in the water — a spontaneous moment that seemed almost as if it were planned.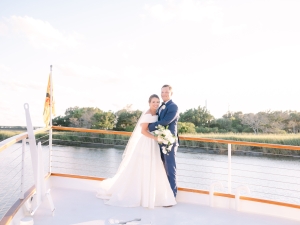 "It was the ideal way for everyone to relax in between the ceremony and dinner," Jonathan says. "Every single person raved about how much fun they had, how pretty it was out on the boat." The Sea Island Explorer, unveiled in 2018, offers Sea Island members and guests a scenic and elegant way to explore waterways around the resort. The yacht provides an open-air viewing deck and enclosed cabin to enjoy the spectacular views of the rivers and golden marshes. The couple's new memories of Sea Island were the perfect way to begin life together as husband and wife. When the couple started dating nine months earlier, Jonathan quickly knew that Ally was the woman he wanted to marry — and there was no better place to start the rest of their lives together than at Sea Island, where they had memories both together and individually as children.
Favorite memory on board: the couple's family and friends meeting each other for the first time.
"It was the perfect setting for them to have some time together in a perfect, quiet, beautiful and serene setting to get to know each other," Jonathan says.
Favorite bite of the day: mini lobster rolls on the Sea Island Explorer.
Favorite memory of waking up the next day: room service on the balcony at The Cloister. "It felt like a dream," Ally says. "It was the perfect calm morning for just us to reminisce on the best night of our lives."
Favorite gratitude moment: feeling thankful for the planners, staff, photographers, family, friends and pastor who helped them have a perfect wedding.