Falling under the dreamy spell of a lighthouse is almost a given for anyone. Part romance, part mystery — the symbolism of a lighthouse is likely rooted in association not only with the sea, but also with the promise of something resolute offering guidance and protection.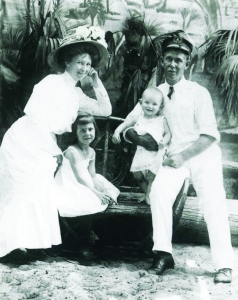 St. Simons Sound have been piloted by the comforting beam that emanates from a lighthouse guarding the waters. A segment of land was originally deeded and designated for a lighthouse in 1804. That original lighthouse, with its keeper appointed in 1810, was made largely of tabby, a mixture of oyster shells, sand, water and lime material often used along the Southern coast in that time period.
Today's lighthouse and attached keeper's dwelling, completed in 1872, are constructed of the best quality, handmade bricks of the age. The historic lighthouse and its original lens still carry the official designation of "Active Aid to Navigation." Guided by Orlando Poe, once the U.S. Lighthouse Board's chief engineer, the design for the ascending, 104- foot tower and its interior cast-iron spiral staircase were fashioned with a hollow that separates the interior and exterior walls. This space was created to accommodate a rotational weight system to control the light — a third order Fresnel lens crafted in France with a fixed range of 18 miles, and a flashing range of 23 miles that operates on a 60-second cycle.
MOMENT IN TIME
Lighthouses, including the St. Simons Lighthouse, replaced earlier warning systems — such as burning pyres set ablaze on nearby hills — meant to alert mariners to coastal dangers, or help identify entrances to primitive ports. By the turn of the 18th century, burgeoning trade routes and sea commerce led to the construction of more sophisticated physical structures. Eventually, automated electric systems negated the need for lightkeepers and made their jobs obsolete. The last resident lightkeeper at St. Simons was David O'Hagan, who occupied the dwelling from 1945 until the automation of the light system in the 1950s.
The lighthouse was acquired by the society in 2004, under the National Historic Lighthouse Preservation Act, and restored in 2010. The surrounding campus includes a keeper's dwelling, gazebo and oceanfront lawn, an oil house where kerosene fuel for the light was once stored, and the A.W. Jones Heritage Center.
The attached keeper's dwelling — operated as a museum of coastal history — includes displays of early photographs, interactive exhibits and a variety of artifacts that document the structure's long history of service. The second floor of the keeper's dwelling captures a moment from 1907 and has been decorated and outfitted with provisions needed by the lightkeeper and his family before luxuries such as indoor plumbing and electricity were available.
MODERN-DAY USES
Today, the St. Simons Lighthouse is one of only five surviving light towers in Georgia. The lighthouse still serves as an active aid to navigation for ships entering St. Simons Sound, casting its beam as far as 23 miles to sea.
The historic lighthouse and its lovely seaside setting are a draw for concerts, weddings and other celebrations. Experience the glow yourself during summer's Little Light Music Concert Series. Four separate musical evenings will take place on Sundays during May, June, July and September. You can also visit the St. Simons Lighthouse, museum and shops Monday through Saturday from 10 a.m. to 5 p.m., and Sundays from noon to 5 p.m. (excluding select holidays). The lighthouse is located on the southern end of St. Simons Island at Pier Village. Check for details at coastalgeorgiahistory.org/visit.