A great home-cooked meal is one of life's sublime pleasures. In addition to pleasing the palate, cooking can also enrich the person behind the stove. Cooks gain confidence, focus and calm, as well as all the feel-good emotions of feeding loved ones and enjoying quality time together.
"Culinary art therapy is a wonderful therapeutic skill to practice mindfulness and creative expression," notes Hector Mañón, a Miami-based chef, instructor and founder of the Association for Culinary Art Therapy.
Maybe that's why chef Bill Smith Jr. cooks when he feels stressed. Smith retired in 2019 from Crook's Corner, a James Beard America's Classic Restaurant, located in Chapel Hill, North Carolina. While there, Smith was twice named a James Beard Award finalist for Best Chef Southeast. He made "millions of cakes" to give away during 2020-21. "It was therapeutic," he says. He credits cooking for enhanced concentration as well: "You have to pay attention to what you're doing. You definitely learn to do more than two things at a time when you're cooking."
Chef Mary Grace Viado agrees: Cooking teaches concentration as well as pre-cision, attention to detail and timing. Viado is the corporate executive chef of the Village Tavern Inc., which features eight restaurants in Alabama, Arizona, Florida, Georgia and North Carolina. "Cooking is one activity where you have to use all five of your senses, sometimes all at once," she explains. "It's an art form on a plate."
FAMILY CONNECTIONS
To some extent, cooking for others is always about the food. "When I was in the restaurant all the time, my job was to make a good dinner," Smith says. "That was also the obligation of the people who cooked for me growing up." When eating Sunday lunch at his grandmother's house, he recalls the expectation of sitting at the table until you were so full you were about to fall over.
Beyond good food, the act of cooking also evokes "a sense of selflessness and happiness in accomplishing something for the benefit of others," Mañón notes. Think of cooking as a form of service, satisfying a need through time and talent. Consider the loving hands that prepare a family favorite or a tantalizing new dish. For most, the tastiness of the food is rivaled only by the fellowship of family and friends.
That's a powerful feeling — one most find worth emulating. "Eating together around the dining table gives each person a sense of belonging and builds From Chef Chris Damskey, Sea Island chef de cuisine for the Georgian stronger relationships that remind us of the love we share," Viado says. "Through food your body is being physically nourished, and through the feeling of love, your soul is being emotionally nourished."
Camaraderie while cooking together is naturally therapeutic. "By preparing a family recipe, for example, one can maintain, and even strengthen, cultural and family ties," Mañón says.
Family and friends who cook together enjoy sharing stories and the day's happenings. Viado notes that parents may find cooking together provides a gateway to communication "to know what's happening in their child's life." She suggests asking relatives to choose their favorite family recipe, then taking turns cooking each recipe together. Or for a group gathering, she proposes hosting a competition in which each person brings a mystery basket of ingredients for exchange; best resulting dish wins. Another idea might be to invite friends from different countries or regions, each cooking a dish from their homeland. The result could be a wonderful buffet of diverse foods.
"The kitchen is typically the heart of the home," Viado concludes. "People that cook and eat together, stay together."
LEARN AS YOU GO
The familiar home kitchen is perfect for making mistakes and learning from them as well as fostering boldness.
Smith's confidence comes from years of practice and the grace-under-pressure requirement of restaurant work. But even home cooks can boost their acumen, leaning into their mistakes as learning opportunities. In fact, kitchen errors may provide therapeutic value. "By practicing cooking and not always succeeding, one's self-confidence can improve through the process of trial and error," Mañón says.
Creativity can even result from false food forays in the forgiving environment of the home kitchen. You create, test and combine unusual ingredients or flavor combinations without the fear of judgment. Research backs this claim. Results of a 2020 study published in the Journal of Creative Behavior suggest that cooking as a creative endeavor may improve mood, social connections, personal acceptance and individual well-being.
Home cooking doesn't have to be perfect to deliver a plethora of benefits. Sure, simply providing a meal will result in the mutual nourishment of chef and guest. But clearly the act and art of cooking, conversation and conviviality offers a smörgåsbord of sustenance beyond the dishes served.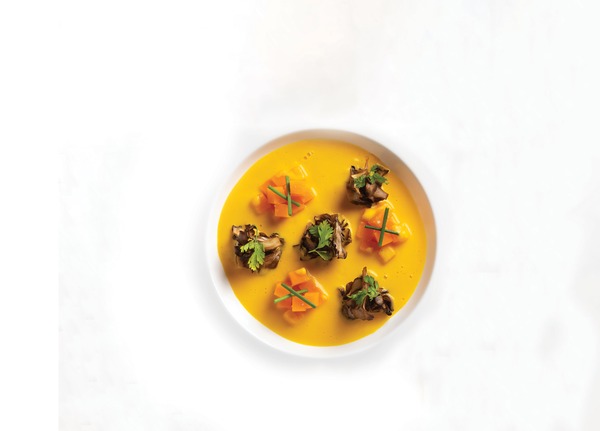 BUTTERNUT SQUASH SOUP WITH BLACK TRUMPET MUSHROOMS
From Chef Chris Damskey, Sea Island chef de cuisine for the Georgian Rooms
INGREDIENTS (MAKES 4 SERVINGS):
2 pounds of butternut (or other) squash that has been peeled and cut into chunks
4 cups chicken or vegetable stock
1 ¼ cup crème fraîche (or sour cream)
2 tablespoons butter
Salt and freshly ground black pepper to taste
DIRECTIONS: Combine the squash (saving a small amount for garnish) and stock in a saucepan and bring to a boil. Cook for about 20-30 minutes or until the squash is very tender. Purée the mixture in a blender. Return the purée to the saucepan and add crème fraiche, along with the butter, some salt and pepper — season carefully. Bring back to a boil and strain then chill and reserve for service.
GARNISH: You will need peeled, diced squash, cleaned hedgehog or other seasonal mushrooms, diced shallots and chives. First, cook the squash in a pan with shallow water, salt and pepper; reduce with butter until tender. Sauté shallots in butter, then add mushrooms; sauté until tender. Sprinkle the top of each bowl with garnish and chives upon serving, or arrange in each bowl prior to adding the soup, as pictured.
TRIED AND TRUECOOKING TIPS
Chris Damskey, Sea Island chef de cuisine for the Georgian Rooms, offers tips to enhance meal preparation for the home cook. He advises home chefs to buy equipment that suits their needs. "You don't need 50 different knives for specialty tasks," he explains. Instead, invest in a good chef's knife that "feels good in your hand and is properly weighted." Additionally, consider acquiring a paring knife, a bread knife and a steel to sharpen them.
Useful pantry items include a good olive oil, kosher or natural sea salt, and a pepper mill for fresh cracked pepper. The pepper provides seasoning and balance, Damskey notes.
Many foods can be pre-cooked, pre-mixed or otherwise prepared before serving. When creating a salad, for example, he suggests washing and slicing vegetables ahead of time, using a damp towel to keep the food fresh. "Then it's just placing items on a plate to make it look nice," he says.
Buy the best of what you can when you can, he advises. "Buy fresh and what's in season. Let the market write the menu for you versus writing a menu and then going to the market." Common fall vegetables include squash, broccoli, Brussels sprouts, cauliflower, eggplant, parsnips, shallots and sweet potatoes.
The trick to getting everything to the table hot? "Repetition. What chefs strive for everyday is consistency, execution and speed." For his own table, Damskey enjoys preparing farm fresh and local. One favorite is "a nice piece of seared fish, steak or shrimp with whatever fresh, local kind of vegetables I can get," he comments.
Another good choice, especially for larger gatherings, is hearty soups and stews. "Where Sea Island is located, I can prepare a quick seafood gumbo or stew with fresh grouper," he says. Another easy choice: ready-made rotisserie chicken from the grocer. "You can carve or shred it, add fresh or dried pasta, and make a quick and simple meal," he explains. What's most important for a memorable meal is creating a hospitable environment. "Whether it's in a fancy restaurant or cooking for your neighbors, friends, family or loved ones, you're giving something of yourself," he notes. "You're nurturing somebody. It's a sacred thing."