Set amid golden marshes, sandy bea- ches and clear starry nights under canopies of ancient oaks, Sea Island is the perfect spot to fall in love. In fact, nearly 40,000 honeymooners from around the world think so, too. Their signatures line the Sea Island honeymooner registry, which began in 1940 and now stands at 47 albums.
Within each book are the couples, including many famed newlyweds, who chose Sea Island to celebrate the beginning of their love story. Looking through these patinaed pages, one will find on line 1,768, the scribbled autographs of George and Barbara Bush, who stayed at The Cloister after their wedding ceremony in 1945. There's also Sarah Churchill, the actress-daughter of 20th century British Prime Minister Winston Churchill, who spent her honeymoon in Sea Island Cottage 75 in 1949.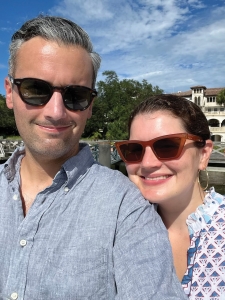 A couple of decades later, noted on line 18,875 of the registry, rests the signature of Ellen and Clement Munroe "Jack" Best Jr. The Goldsboro, North Carolina-based couple spent their three-day honeymoon at Sea Island in 1968 on a recommendation from a local Goldsboro hotelier. The rate for their suite at The Cloister was $56 per night. Ellen, now 75, fondly recalls her time at the destination. "We enjoyed the beach, and our waiter was delightful," she remembers. "It was unique to sit at 'our table' for breakfast and dinner. We watched the smooth dancing of the older generation in their white dinner jackets."
Fast-forward to September of 2022 when Washington, D.C.-based newlyweds Malcom and Elizabeth Savage came to the resort for their honeymoon. Elizabeth is a third-generation Sea Island honeymooner. Her grandparents in 1954 and her aunt and uncle in 1991 also stayed at The Cloister for their honeymoon.
"We felt a sense of connection," Elizabeth comments. "When we were deciding what to do for our honeymoon, it only seemed appropriate to continue the tradition."
During their trip, the Savages also stayed in a suite in The Cloister, where they enjoyed reading on the porch when they weren't laying at the beach or sipping handcrafted cocktails at the pool.
"It was nice to take a break from our hectic lives," Elizabeth notes. "We were newly married … so we just soaked it all in and relaxed. When I mentioned to the concierge that we were honeymooning as a third generation, they were very excited and helped us locate the photo albums from my family, which was very special."
The Bests have since returned to Sea Island numerous times, including for their 25th, 39th and 46th anniversaries. The Savages hope to follow in the Bests' footsteps. "We will be back," Elizabeth assures.
TIME CAPSULE ROMANCE
Did you know? In celebration of its years of happy couples, Sea Island invites previous honeymooners to save their receipts and, on the anniversary of their trip, pay the original rate on the first night of their stay.