While there are no miracle shortcuts that bypass the practice range and putting green, technology can help you improve all aspects of your game from analyzing your shot and the flight of the ball to offering superior clubs. Of course, technology is nothing new to the world of golf. Manufacturers constantly create new designs and materials to make clubs and balls more efficient and forgiving. Club fitters now have more tools to evaluate golfers' swings and fine-tune their clubs. Golfers also have access to golf watches and range finders that determine distances more accurately and enable savvy club selections. But the best tools will only take you so far if you don't sharpen your skills. That's where some of the exciting new tech comes in to play.
CLIPPD
Artificial intelligence has entered the golf realm with a surprisingly intuitive app. Simply put, Clippd (named for the sound of a crisply hit ball) pulls together information from existing measurement tools such as Arccos, TrackMan and Garmin and generates detailed graphics and charts on the golfer's (or coach's) phone, tablet or laptop. Rounds and practice drills can also be entered directly into the user-friendly app, showing a player's strengths and weaknesses and suggesting a practice plan. Clippd is being used by top touring professionals and Division 1 college programs as well as everyday club players.
"Clippd is a data-driven performance platform that tracks the golfer's entire game on course and off course," explains Piers Parnell, CEO and co-founder of Clippd. "Its proprietary metrics reveal the quality of every shot players hit and their skill levels in each part of their game as well as overall performance. It identifies the skills that have the biggest impact on their scoring and the fastest opportunities to improvement."
The Sea Island Golf Performance Center (GPC) uses the Clippd platform. According to Craig Allan, director of the Golf Performance Center, he and his team of coaches have begun using Clippd with their Player Development Program students, sharing lesson notes and video, and tracking players' activity and progress. Coaches can save time by knowing in advance exactly what to work on in each lesson.
"Clippd data is so helpful in coaching," notes Allan. "It gives you the opportunity through the data to specifically pinpoint opportunities for improvement."
TRACKMAN
In 2003, Danish golfers Klaus and Morten Eldrup-Jorgensen and radar engineer Fredrik Tuxen developed a way to use Doppler radar to analyze the flight of a golf ball. The technology was a game changer for instruction and club fitting. Twenty years later, the latest TrackMan system, TrackMan 4, remains the state-of-the-art tool in golf instruction, club fitting and has become a world-famous course simulator.
The system features dual radar technology and optically enhanced radar tracking, which means it can track the ball from launch to landing with one radar system, with an accuracy of under one foot at 100 yards, while the second radar system tracks the club from the beginning of the swing through impact.
"Being able to accurately measure all of these parameters to the highest level means players can dial in all of their distances and dispersions with every club, driver through putter," says Matt Frelich, senior vice president of TrackMan sales and business development.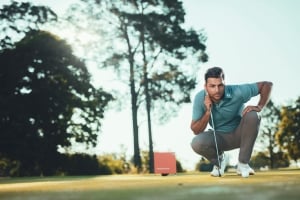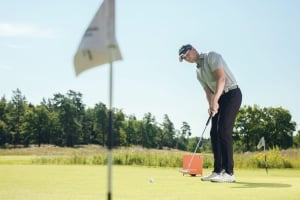 "Club fitters are able to use a player's swing to determine his/her potential with optimal equipment. Accurate club delivery measurements also allow instructors to identify areas for improvement and verify once a player has achieved desired results. TrackMan's Performance Center is a new feature of the free Golf Pro app that uses three testing formats to evaluate shots. Touring professionals and serious golfers are using Trackman technology to put pressure on their practice to produce the best outcomes during tournament play."
STATE-OF-THE-ART CLUBS
In another bid to improve the game, advanced materials are making clubs lighter, faster and more forgiving. Carbon, in particular, offers lighter weight and design options not possible with steel.
For example, Callaway Golf has replaced titanium with carbon in its new Paradym line of drivers, fairway woods and hybrids. The shift to carbon in the driver makes the club head 44% lighter than titanium, weight that has been repositioned forward to increase ball speed and back to add more forgiveness. The hybrids also have an all-new Cutwave Sole that is designed to cut through turf and heavy rough. Irons have received an upgrade, too. The new hollow body and forged face result in a stable club with a thinner face for enhanced speed.
Similarly, TaylorMade's Stealth line of drivers, fairway woods and hybrids was fine-tuned for 2023. The new Stealth 2 driver's carbon gives it greater ball speed and allows for weight distribution in the face to make it more forgiving. The Plus version of the driver features lots of adjustments, including a sliding sole weight. The new fairway woods are also more forgiving, and the high-draw, or HD, model has more loft to get the ball up in the air for those long shots. As the name indicates, it is designed to correct a fade or slice tendency with what is called a "draw bias." Stealth HD irons promise forgiveness, higher trajectory on approach shots, and a draw bias that increases in the longer irons, where more golfers tend to slice or fade.
"The advent of the 60X Carbon Twist Face paved an all-new runway for driver performance and confirmed our belief that the limits of titanium had been met," comments Tom Fisher, TaylorMade's global custom director. "Across our entire product catalog, we explore advanced materials and fearless designs. Carbon faces are only the tip of the iceberg. From 50g movable weights in the Stealth 2 Plus fairway woods to progressive face heights in Stealth HD irons, our willingness to push beyond the norm defines TaylorMade."
ZEN GREEN STAGE GETS AN UPGRADE
In 2018, when Sea Island Golf Performance Center (GPC) Director Craig Allan was contemplating a state-of-the-art putting studio for the new GPC, he asked Phil Kenyon, Sea Island director of putting and world-famous putting coach, about recreating his England studio setup at Sea Island. Kenyon agreed, and he did, complete with a Zen Green Stage. The moveable putting surface, developed by engineer Nick Middleton based on a concept by the late test pilot and avid golfer U.S. Air Force Col. Horace Templeton, has been a stellar addition to the center's facilities. And it just got an upgrade.
"The Zen Green Stage, along with PuttView, are incredible tools that allow us to test a player's putting skills in a controlled environment and then address any deficiencies," Allan explains. "These technologies are incredibly valuable and allow us to greatly speed up the learning curve."
According to Andy Hiseman, managing director of Zen, the new Green Stage is bigger — 8 feet wide by 20 feet long — but at just 9 inches high, it is 6 inches lower than the old stage, for easier access and enhanced stability. This means that the contours are much firmer and more accurate than before, and it can be adjusted in increments of 0.1% of a gradient. It's also engineered to be quieter and the achievable gradients have increased.
"The putting surface is also dramatically better," Hiseman comments. "The 'Zen Master' turf is New Zealand lambswool, developed exclusively for putting on the new Zen Green Stage. The Sea Island stage stimps at 11.5, which is representative of PGA TOUR speeds (and refers to how fast the ball rolls). Many coaches and TOUR golfers are saying it's the best indoor putting surface they've experienced. It's also more attractive and lifelike, so that the eye focuses on the gradients. Putts roll in a more 'grass-like' way, especially in the 'decay' phase when the ball is slowing to a stop."
According to Hiseman, Sea Island Senior Putting Instructor David Angelotti and his students now have more than 9.5 billion different putts to try on the improved Green Stage, all created on a new wireless touch screen with enhanced controls.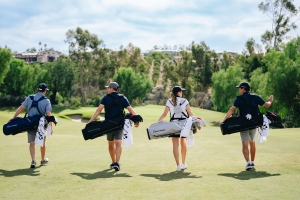 INTO THE FUTURE
New technology influences every aspect of modern life, including golf. Just when you think the game-improving choices can't get any better, innovations such as Clippd can help you determine where to focus your practice and shave strokes off your score. Today's golf watches accurately measure distances, making your club selection more precise. Club manufacturers have discovered that carbon is better than titanium for drivers, so longer, straighter drives are possible. Irons are now designed to straighten out your slice. Golf balls are so finely tuned they can deliver distance and feel on short shots. New golf shoes are as comfortable as your favorite sneakers — and are attractive enough for street wear, too. New materials in golf clothing wick sweat away from the body. And golf bags are increasingly carry-friendly if you favor the walking game. The sport has evolved immeasurably from the niblick early pitching wedges and hand-rolled gutta percha balls of centuries ago, and the most difficult aspect of golf today may be choosing which tools are right for you.