PEDAL Bike Shop
PEDAL is a full-service shop offering bike rentals, repairs, and accessories. Offerings include: beach cruisers, hybrid bikes, and road bikes. Trailers, pull-behinds, and baby seats are also available.
To reserve, call:
(912) 357-3309
Offered Year Round
Price:
Beach Cruiser Rental
$25/half-day, $40/full-day, $15/each additional day; helmets and lock included.
Additions: Trailers and pull-behinds, $15/day; baby seats, $5/day.
Hybrid and Road Bike Rental
$50/half-day, $70/full-day, $35/each additional day.
A service charge of 24% will apply to activity.
Activity Information
Not Offered Today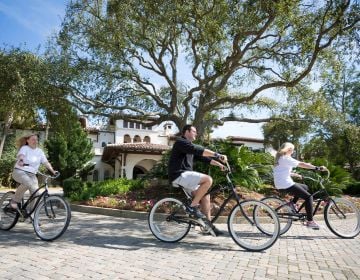 PEDAL Bike Shop
One of the best ways to see Sea Island might just be the most fun, too. Go on your own, on a tour, or take a lesson.