Intermediate Pickleball Improver's Clinic
Retreat Tennis Center
Learn game-winning strategies, shot placement/control, and transition from the baseline to the non-volley zone.
To reserve, call:
(912) 638-5133
Court shoes are required to play. Jeans, cut-offs, and running shorts are not appropriate. Bathing suits, tank tops, and jogging bras are not appropriate. Sleeveless shirts are not permitted for men.
Offered Year Round
Price:
$30/player – A service charge of 24% will apply.
Activity Information
Not Offered Today
Location

Retreat Tennis Center

Child Friendly

No

Dress Code

Casual

Reservations

Required

Seasonal

No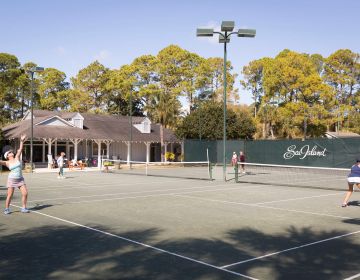 Retreat Tennis Center
Learn and play at our state-of-the-art tennis facilities. Features multiple tennis and pickleball courts as well as court and ball machine rentals. Less than a 15-minute drive from The Cloister (down Sea Island Drive to Kings Way), and five minutes from The Lodge (left off Retreat Ave to Kings Way).