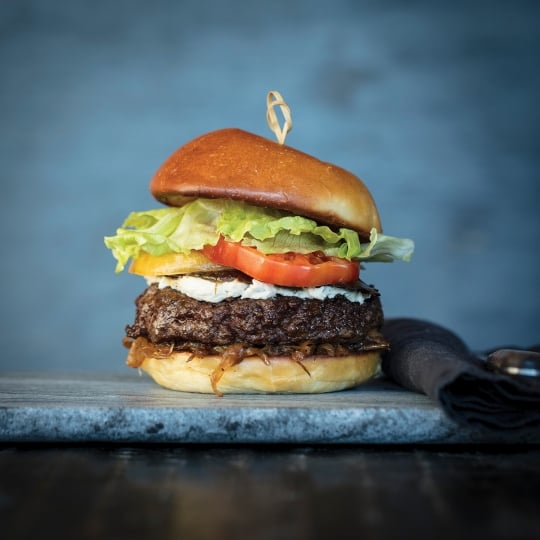 Summit Burger
Makes 2 Burgers
The Summit Burger commemorates the 2004 G8 Summit, when French President Jacques Chirac asked for a cheeseburger rather than the day's planned menu. Served at River Bar.
4 Tablespoons Balsamic Vinegar
8 Tablespoons Olive Oil, Divided
2 Portobello Mushroom Caps, Cleaned
2 Pounds Vidalia Onions, Thinly Sliced
1 Pound Ground Beef
3 Tablespoons Boursin Cheese, Room Temperature
1 Yellow Heirloom Tomato, Thinly Sliced
1 Red Heirloom Tomato, Thinly Sliced
2 Iceberg Lettuce Leaves
2 Tablespoons Kosher Salt, Divided
2 Tablespoons Black Pepper, Divided
2 Brioche Burger Buns
1. Whisk together balsamic and 4 tablespoons olive oil until emulsified; season with salt and pepper. Marinate portabello mushrooms for 30 minutes at room temperature.
2. Heat a large skillet over high heat and add remaining olive oil. Add onions and turn heat to medium. Cook down, stirring often, until caramelized. Onions should be golden brown, but not black or burnt on the edges. This will take about 20 minutes. Once caramelized, remove from heat and keep warm.
3. Meanwhile, place ground beef in a medium mixing bowl, and season generously with salt and pepper. Form two 8-ounce burger patties about 3/4 inch thick.
4. Pan sear or grill burgers to desired temperature. (We prefer medium rare.) Let rest in a warm place 2 to 3 minutes before serving.
5. Remove portobello from marinade, and grill or pan sear (whichever method you used for the burger) until tender.
6. Slice burger buns in half and toast both sides.
7. Assemble burger by placing caramelized onion on the bottom bun, then the burger. Add a dollop of Boursin cheese on top of the burger, followed by the roasted mushroom. Top with 1 slice each of yellow and red tomato, as well as the lettuce leaves. Top with the remaining half of the bun.