Fall Harvest Dinner
Rainbow Island
Enjoy the flavors of fall at Rainbow Island, where live music and a cash bar accompany the event. Jeep Train picks up from the Beach Club beginning at 4:45 p.m. and makes continuous loops until 8:30 p.m.
Price:
$95/adult, $40/child – A service charge of 25% will apply.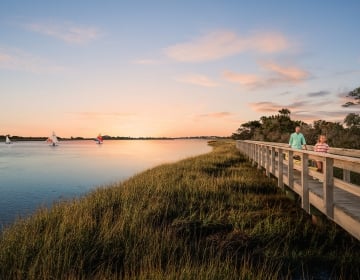 Rainbow Island
What can't you do at Rainbow Island? The home of one of Sea Island's most beloved outdoor dinner traditions is also your home base for exploring Sea Island's waterways. Kayak to a beach for a picnic lunch, learn to sail, or take your yoga practice from the mat to the paddleboard. Sign up for a hawk walk, falconry meet and greet, marsh and beach horseback ride, even host a casual private dinner or event. This waterfront location is a short ride or walk from The Cloister, just over the bridge on your left, and is the starting point of many cherished Sea Island memories.