Fall Harvest Dinner
Rainbow Island
Enjoy the flavors of fall at Rainbow Island, where live music and a cash bar accompany the event. Jeep Train picks up from the Beach Club beginning at 4:45 p.m. and makes continuous loops until 8:30 p.m.
Price:
$95/adult, $40/child – A service charge of 25% will apply.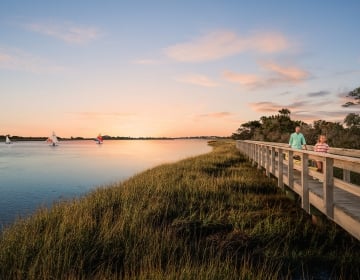 Rainbow Island
Explore Sea Island's waterways. Kayak to a beach for a picnic lunch. Learn to sail. Take your yoga practice from the mat to the paddleboard. Or dine on classics paired with a side of salt air and lapping waves. It's also the starting point for several nature activities.