Global Wellness Day
Fitness Center
Join us on June 11 for Global Wellness Day and enjoy the following complimentary wellness sessions.
 7:30 a.m. Sunrise Beach Yoga
8:30 a.m. Weekend Flow
                      Unwind Yoga
9:00 a.m.  Indoor Cycling
                     Pilates Reformer
                    Family Beach Yoga (Beach Club)
10:00 a.m. Hardcore HIIT
                       Pilates Reformer
                       Energizing Stretch
11:00 a.m. Aqua Fit 
1:00 p.m. Indoor Cycling 
4:00 p.m. Sound Bath
5:00 p.m. Outdoor HIIT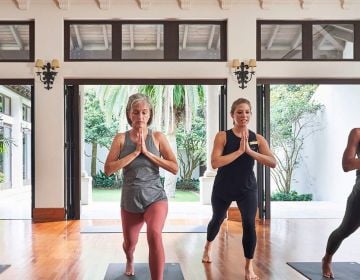 Fitness Center
Join us for a class or work out on your own. Motivate yourself or meet up with a personal trainer. With an extensive modern facility and dozens of group classes each week, Sea Island's fitness offerings and services will keep you on your toes.