Holiday Sports Clinic
Fitness Center
The Holiday Sports Clinic is 4-day clinic featuring Basketball, Swimming, Squash and Soccer. Learn fundamentals, drills, and have daily competition to help improve your skills. Two sessions a day. Ages 14 and up – Parent present to sign waiver for ages 17 and under. Each teen can sign up to multiple clinics. 10 teens per hour. T-shirts and drinks will be provided. Appropriate for ages 6-13.
Schedule
Dec 19: 10-11 a.m. and 11 a.m.-12 p.m.
Dec 20: 10-11 a.m. and 11 a.m.-12 p.m.
Dec 21: 10-11 a.m. and 11 a.m.-12 p.m.
Dec 22: 10-11 a.m. and 11 a.m.-12 p.m.
Ages 17 and under require a waiver. Casual workout attire is acceptable and proper athletic shoes must be worn within the Fitness Center. To view the full policy, click here.
Price:
$75/child, $275 for all four clinics – A service charge of 24% will apply.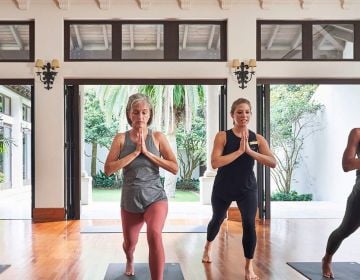 Fitness Center
Join us for a class or work out on your own. Motivate yourself or meet up with a personal trainer. With an extensive modern facility and dozens of group classes each week, Sea Island's fitness offerings and services will keep you on your toes.