New Years Eve In the Lodge Wine Cellar
The Lodge Wine Cellar
Join our Lodge Executive Chef for a private dinner in The Lodge Wine Cellar with an exclusive five-course dinner and wine pairings from The Lodge Sommelier Team. Gather in the Trophy Room to toast the start of the evening. Attendees must be 21 year or older.
Jacket and tie required, black tie recommended. 
Price:
$375/person – A service charge of 25% will apply.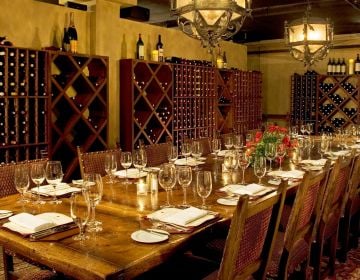 Lodge Wine Cellar
Bottle-lined chamber with permanent wooden estate dining table and seating for up to 20 people. 416 sq ft