Golf Cart Rentals at PEDAL
PEDAL Bike Shop
One of the best ways to experience Sea Island is on a golf cart!
To reserve, call:
(912) 291-2977
or email [email protected]
Drivers must be in possession of a valid driver's license and be 16 years of age or older. Learners' permits are not acceptable.
Offered Year Round
Price:
4-passenger golf cart, $110/full-day, $575/week
6-passenger golf cart, $175/full-day, $950/week
A service charge of 24% will apply.
Activity Information
Offered Today At
Rentals from half-day to monthly
9:00 - 5:00 pm
Location

PEDAL Bike Shop

Child Friendly

Yes

Dress Code

Resort Casual

Restrictions

Must have valid license and be 16+

Reservations

Required

Seasonal

No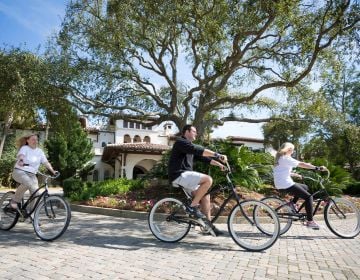 PEDAL Bike Shop
Full-service bicycle shop located at the Beach Club, a short walk out The Cloister front door straight up the lush path. Offering bike and golf cart rentals for the whole family including beach cruisers, hybrid bikes, and road bikes, as well as railers, pull-behinds, and baby seats. Join a tour or rent and go off on your own. One of the best ways to see Sea Island might just be the most fun, too.