Savannah or Fernandina Beach History Boat Tour
The Cloister Dock
Take in the beauty and spot the wildlife of coastal Georgia while cruising in our 39' Contender along the Intercoastal Waterway to Savannah, Georgia or Fernandina Beach, Florida (Amelia Island). Once you reach the destination, experience a guided historical or architectural tour of downtown Savannah or the Fernandina Beach riverfront with Sea Island Historian Wheeler Bryan. Enjoy lunch at a local restaurant before returning to the resort with Sea Island Transportation. Max 6 people.
To reserve, call:
(912) 638-5145
Months Offered: Year Round
Price:
$5,150 – A service charge of 24% will apply.
Activity Information
Offered Today At
Location

The Cloister Dock

Child Friendly

Yes

Dress Code

Resort Casual

Reservations

Required

Seasonal

No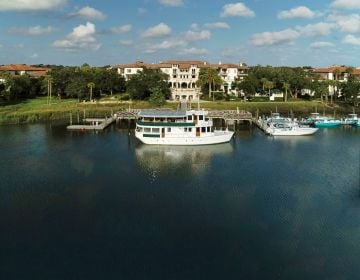 The Cloister Dock
From launching pad of fishing adventures to cruising our golden marshes: an unforgettable pre-dinner or private cruise aboard our 71-foot yacht, the Sea Island Explorer, or fishing aboard the 39-foot Contender. Exit the Colonial Lounge toward the river and straight ahead to the dock.