3 on 3 Basketball Tournament at The Cloister Fitness Center
Fitness Center Squash Courts
Come out with your team of 3 or we will pair you with others as we play 3 v. 3 basketball at the Fitness Center! Appropriate for ages 14 and up.
Ages 17 and under require a waiver. Single elimination rounds. T-shirts and medals provided.
Casual workout attire is acceptable and proper athletic shoes must be worn within the Fitness Center. To view the full policy, click here.
Price:
$55/individual, $150/team of 3 – A service charge of 24% will be applied.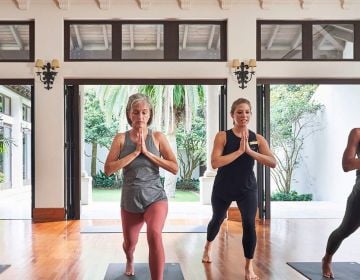 Fitness Center
Join us for a class or work out on your own. Motivate yourself or meet up with a personal trainer. With an extensive modern facility and dozens of group classes each week, Sea Island's fitness offerings and services will keep you on your toes.