Christmas Eve Dinner in The Cloister Ballroom
The Cloister Ballroom
Our Sea Island chefs and Santa have worked hard on a delicous menu that even the reindeer approve! Enjoy live music and some of your favorite dishes at the dinner table surrounded by friends and family. Cash bar available.
Jackets required. Various seating times available.
Price:
$135/adult, $50/child (Ages 4-14) – A service charge of 25% will apply.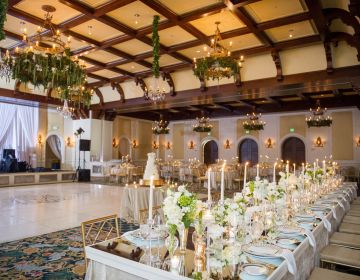 The Cloister Ballroom
Take a right from the Colonial Lounge and at the end of the riverside corridor past Tavola, the shops, and a series of smaller meeting rooms, tucked around the corner to your right you'll find our largest interior space, often used for large parties and holiday events. Admire the decorative wood ceiling, upholstered movable walls, and gorgeous chandeliers.