New Year's Resolution Challenge
Fitness Center
Kick off your new year with a month-long fitness competition! Take as many classes at the Fitness Center to reach your goal weight/measurements. Our Personal trainers will offer three accountability weigh-ins, one at the beginning, the next at the 15-day mark, and one at the 30-day mark. Age categories include ages 17-30 and 31 and up. Winners in each category will receive a free massage or personal trainer session.
Ages 17 and under require a waiver. Casual workout attire is acceptable and proper athletic shoes must be worn within the Fitness Center. To view the full policy, click here.
Price:
$200 Registration Fee. Price includes 2 body assessments, 2 30-minute physical therapy sessions, and 2 Cryotherapy sessions – A service charge of 24% will apply.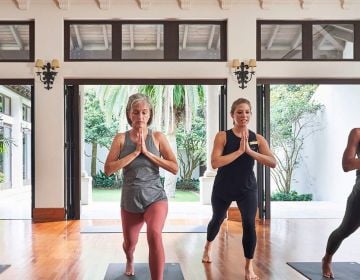 Fitness Center
Join us for a class or work out on your own. Motivate yourself or meet up with a personal trainer. With an extensive modern facility and dozens of group classes each week, Sea Island's fitness offerings and services will keep you on your toes.