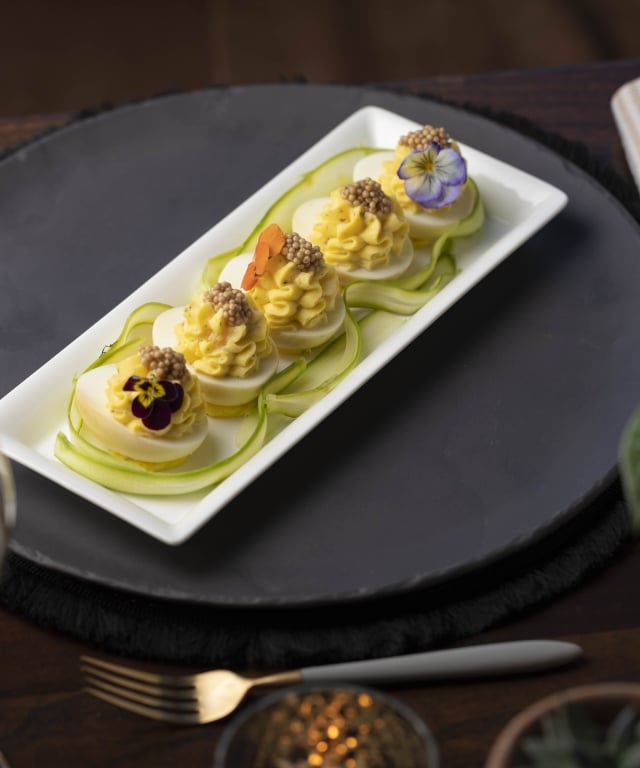 Appetizer
Smoked Deviled Eggs
A Southern favorite, with an Oak Room twist!
Smoked Deviled Eggs
Makes 12 Eggs
Pickled Mustard Seeds
3 ounces Yellow Mustard Seeds
6 ounces Champagne Vinegar
¼ cup Sugar
1 tablespoon Kosher Salt
Smoked Deviled Eggs
6 Hard Boiled Eggs
2 tablespoon Dill (Chopped)
¼ cup Mayonnaise
2 tablespoon Whole Grain Mustard
½ teaspoon (per egg) Pickled Mustard Seed
Smoked Deviled Eggs:
After the eggs have been boiled for 12 minutes put them into an ice bath to cool, then peel.
Place the eggs into a preheated smoker. The smoker should be 150 to 200 degrees with a lot of smoke rolling out. Smoke the eggs for 15-20 minutes or until golden brown.
Remove the eggs from the smoker and place into a ziplock bag. This will ensure the outside of the egg doesn't get tough and chewy. Let cool in a refrigerator.
Once the eggs are cool, cut them in half from top to bottom. Remove the yolks and place in the bowl of a food processor. Add the mayonnaise, whole grain mustard and the dill and process until the mixture is smooth. Using a piping bag with a star tip, pipe the yolk mixture into the halved eggs.
Top with pickled mustard seeds and enjoy.
Using a small sauce pot bring 3 cups of water to a boil. Place the mustard seeds in the water and let sit for 2 minutes then drain. Using fresh water every time do this process 6 more times.
While blanching the seeds, put the vinegar, sugar, and salt into another saucepan. Bring this mixture to a simmer dissolving the sugar and salt.
Once done blanching the mustard seeds 7 times (this takes the bitterness out of the seeds) drain completely and put into a sealable container. Pour the hot pickling liquid over the seeds and let set overnight.