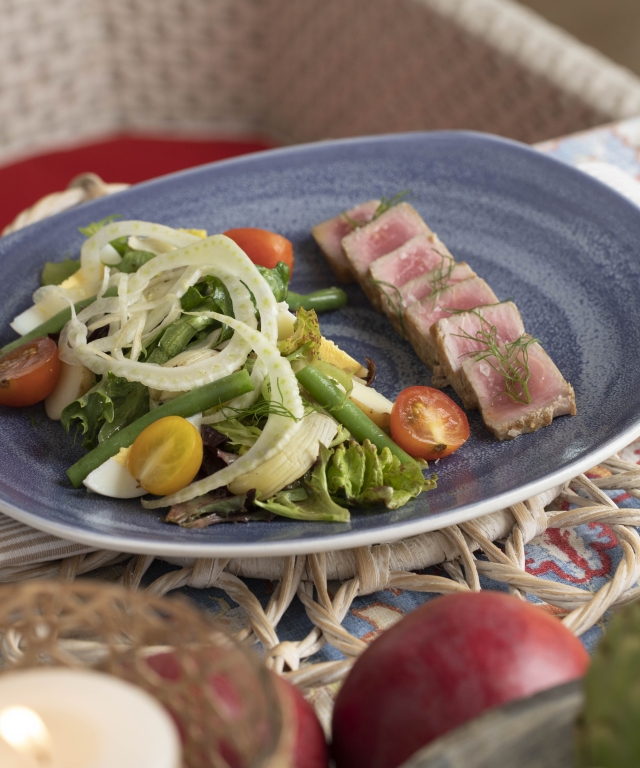 Light and fresh – the perfect start to a coastal meal.
Sherry Tarragon Vinaigrette
1 cup Sherry Vinegar
½ Bunch Whole Tarragon
½ Bunch Whole Tarragon Leaves
1 ounces Shallots
4 tablespoons Dijon Mustard
2 tablespoons Honey
2 tablespoons White Pepper
Salt (to taste)
1 Pint Salad Oil
Tuna Salad
4 ounces Portion Fresh Tuna Loin (4 Per Person)
8 Whole Boiled Egg (Cut Into 6 Pieces, 2 Per Person)
Frisee Lettuce (Pre-Washed and Cut, 2 Per Person)
Grilled Artichoke Hearts (Grilled and cut in 1/8, 2 Per Person)
Fennel Root and Stems (1 Per Person)
1 Cup French Green Beans (Previously Blanched)
3 teaspoons Lemon Olive Oil
12 tablespoons Sherry Tarragon Vinaigrette
Lemon Zest (1 Per Person)
Salt (to taste)
Pepper (to taste)
Sherry Tarragon Vinaigrette:
In a pot put the vinegar to boil once it starts put the tarragon in there and turn it off, let it infuse, save vinegar, and use as base for the following mix.
Place all ingredients except oil in a blender and blend until smooth after that slowly add oil until emulsified.
In a bowl marinade the Tuna loins with 1 teaspoon of lemon olive oil, the lemon zest, salt and pepper, and reserve for 15 minutes.
Place an anti-adherent pan in high heat and seal the tuna loins on their 4 sides and put on the cooler for cut the heat.
Separate the fennel root from the stems and shaved the root.
Marinade the frisse lettuce with the green beans, fingerling potatoes, and grilled artichokes with the sherry tarragon vinaigrette and divided in 4 plates. Decorate with the egg slices and the shaved fennel root previously marinated on the sherry tarragon vinaigrette.
In a cutting board, slice the tuna in tataki style, serve next to the salad and decorate with fennel leaves and some lemon olive oil.