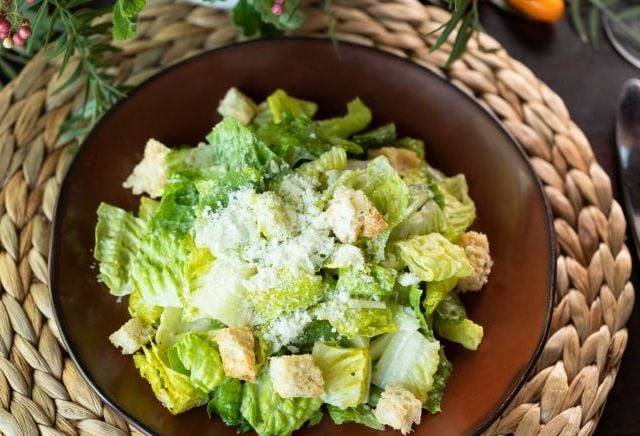 Antipasti - Sea Island Caesar Salad
A true classic, and a way many guests begin their Tavola dining experience.
Serves 8
Salad
Romaine Lettuce Leaves
Croutons
Dressing
2 ounces White Anchovies
2 Egg Yolks
1/4 cup Dijon Mustard
1 Lemon, Juiced
1 Clove Garlic, Chopped
1/4 cup Red Wine Vinegar
3/4 cup Canola Oil
3/4 cup Olive Oil
1 tablespoon Worcestershire Sauce
1/2 teaspoon White Pepper
Salt and Tobasco to Taste
2 ounces Parmesan, Shaved, to Taste
Croutons
1 small Baguette or Small Focassia
1/4 cup Olive Oil
1/4 cup Rosemary, Finely Chopped
Salt and Pepper to Taste
Dressing:
In a large wooden bowl, gently mash anchovies with a fork. Add egg yolks, mustard, lemon juice, garlic, vinegar, and salt. Whisk together.
While whisking, slowly add canola oil in a steady stream until the mixture emulsifies. Do the same with the olive oil. Season with Worcestershire, Tabasco, and pepper, and finish with half the Parmesan. Taste and adjust the seasoning. Reserve to toss over romaine lettuce, croutons, and remaining parmesan.
Croutons:
Preheat oven to 375'. Small dice a loaf of bread until you have 1 cup. Reserve remainder of the loaf for another purpose. Place diced bread into a small mixing bowl and toss with olive oil, rosemary, salt and pepper until well coated and olive oil has been absorbed. Place onto a sheet tray and bake until crispy, 5 to 6 minutes.